---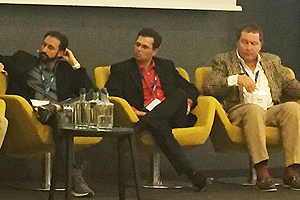 At the Domaining Europe conference May 15-16, 2017 in Berlin, Above.com's Co-Founder and President David Warmuz (red shirt) shared valuable insights on how to maximize the return on domain asset investments.
During his panel discussion, David spent time describing how domain investors can ensure they are getting the maximum revenue for their traffic. He pointed out that traffic monetization is not dying, despite what many people think.
For example, Above.com's AutoPilot Maximizer feature enables carefully screened advertisers from company-owned Trellian Direct Search Network to bid on domain traffic. These advertisers are happy to pay a premium for domain traffic from Above.com because it performs well and because Above takes extra steps to deliver high quality, highly relevant traffic. As a result, domain investors using Maximizer can generate increases in revenue for their quality traffic and thus reverse potential declines seen from parking.
We were proud to support this conference as Gold Sponsors.
To learn more about how our Maximizer feature can boost your revenues, email support@above.com.
For details on how our Brokerage Service can help you buy or sell marquee domains, email brokerage@above.com.
---